Moving Wine Collections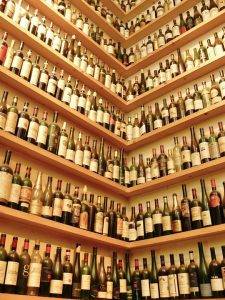 For many in Southern California, a wine collection is a very valuable asset. Whether you're a casual collector or a seasoned sommelier, you'll want to ensure that your collection is well protected. Your wine cellar is full of bottles that you may have received as gifts, some that were obtained from a special visit to a vineyard or tasting and some that have yet to mark a special occasion. Moving such a collection should be done with the utmost care. If you're moving and need help handling your wine collection, the team at Pink Transfer Moving & Storage has the skills and resources to transport the contents of your wine cellar safely and securely. Since we have been in business since 1928 our experience with specialty moving services has helped us become one of the most reliable moving companies in the Pasadena, CA area. There's a lot to get done when moving a wine collection, and we're ready to help move it safely into its new home.
Wine Collection Movers
Safely moving a collection of wine requires a lot of planning and attention to detail. We recommend photographing your wine cellar prior to the move to document the wine's condition. This ensures you have a record of your wine collection during the move and it can also serve as an inventory checklist for you. We also recommend getting your wine collection appraised before moving. Make sure your wine cellar receives a visit from a professional appraiser prior to moving your wine. The best way to find an appraiser is to contact a local, fine wine distributor or shop.
Whether you're a casual collector or a seasoned sommelier, you'll want to ensure that your collection is well protected.
Professional movers are well equipped to handle shipping wine. At Pink Transfer, we rely on the experience gained from decades as a moving company to move your wine collection securely. If you are moving your collection in the summer in Southern California or during the winter months in colder climates, temperatures can be extreme. You'll want to make sure that you're using a moving company that transports wine with best equipment and is always conscious of climate and temperature. That's exactly what you get with Pink Transfer Moving & Storage.
Our professional movers will take extra care to protect the wine when packing. If you are packing the wine yourself, it's a good idea to use the type of wine packing boxes that commercial airlines use to transport wine for retailers. These are usually made of Styrofoam or corrugated cardboard and protect your wine collection by preventing bottles from moving during transportation. You can purchase them at stores that sell wine in your area. Also, remember to allow your wine collections at least seven days to rest after moving to prevent any loss of flavor.
Wine Cellar Moving Quote
Something as delicate as a valuable wine collection should be moved with care by experienced, professional movers. Before you start packing up that wine cellar, talk to the experts at Pink Transfer Moving & Storage. We offer packing services so you won't have to do it yourself. If you have any questions about our wine collection moving services in the Pasadena or San Gabriel Valley area, call us at (626) 357-2919 or fill out our online form for a free quote.